At the end of Princes Street in Edinburgh, whisky brand Johnny Walker has occupied an entire house. What to expect when you visit? Read here.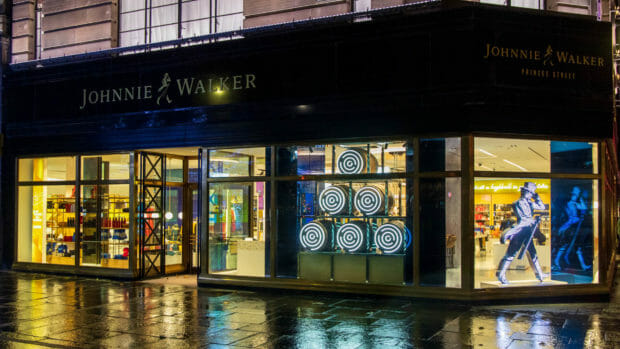 "Keep walking," says Johnny Walker. And that then describes the tour offered here at Johnny Walker Princes Street quite well. Participants first enter the shop and then get to wait in a lobby for the tour to start. The time is passed by a quiz that finds out taste preferences and assigns them to a color, which the visitor then receives as a wristband.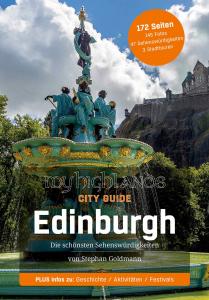 Mein Reiseführer Edinburgh
Auf 172 Seiten beschreibe ich 47 Sehenswürdigkeiten in der schottischen Hauptstadt. Zusätzlich Infos zur Anreise, zum Klima und zur Geschichte Edinburgh. Mit drei Vorschlägen für Tagestouren.
Mehr Info hier.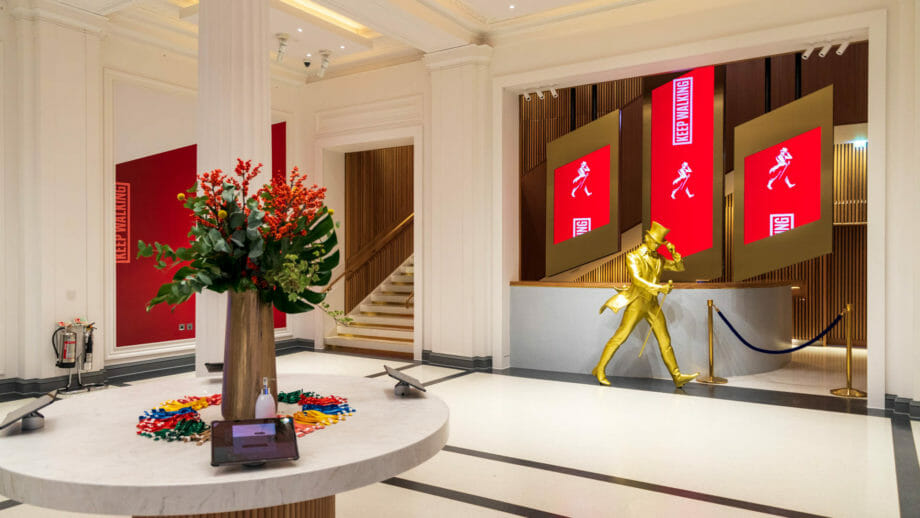 But perhaps some background first: Johnny Walker is a blended whisky brand that has been around for over 200 years. Blended whiskies are mixtures of various other varieties that a master blender blends to create their own flavor.
The problem: Many whisky connoisseurs are into single malts, whiskies from one distillery and often even from one specific cask. And they are often purists: no ice, no other drink – at most a few careful drops of water may open the whisky.
So Johnny Walker and this connoisseur culture miss each other a little. And that's where the Princes Street tour is trying to get at: On beliefs and behaviour. In the very first room, a colourful and interactive presentation makes it clear: Johnny Walker is everywhere. Johnny Walker is modern. And Johnny Walker wants to challenge the principles: Ice is allowed, mixing is allowed, everything is allowed.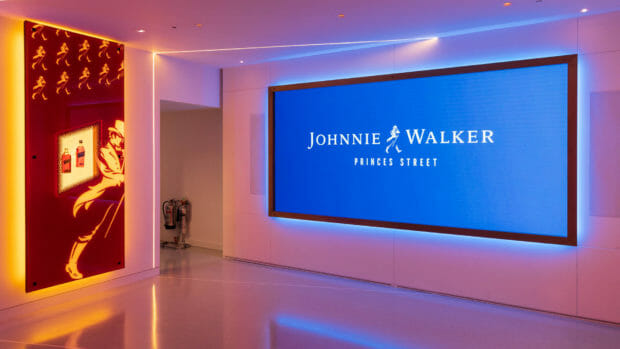 To be clear, all of this is entertaining. Everything is on a high technical and also narrative level. The rooms are clean, modern and lit with colorful LEDs. What a concept, what a planning. But don't linger too long: keep walking! Check out the story of Johnny Walker …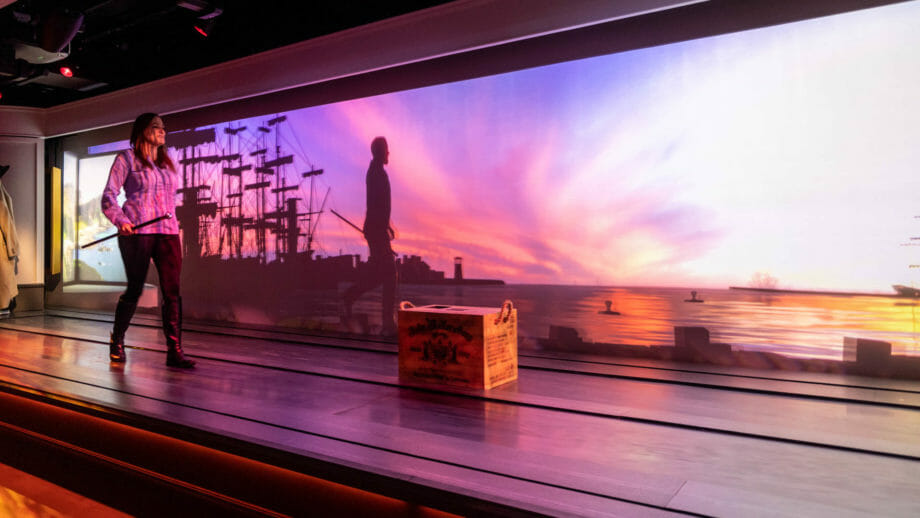 And the telling of the story once again leaves visitors in awe. For the narrator welcomes one like the fairy tale aunt sitting in a comfortable armchair. As time goes on, however, she begins to move. And not only her. The whole stage: individual parts of the scenery fly in and out, treadmills in the floor sometimes make the narrator march on the spot, sometimes they transport her to the other side of the stage in a flash, while she goes through the history one event after the other. "Keep walking" applies to her, too. But she has to be precise in her timing. A masterpiece!
But enough history now. Keep walking, next room. Now, finally, something to drink. And how could it be otherwise: cocktails. Everyone serves themselves by taking a glass with a bottom the same color as their ribbon. This tells the tap what mixture it's dispensing. Some garnish back at ones place.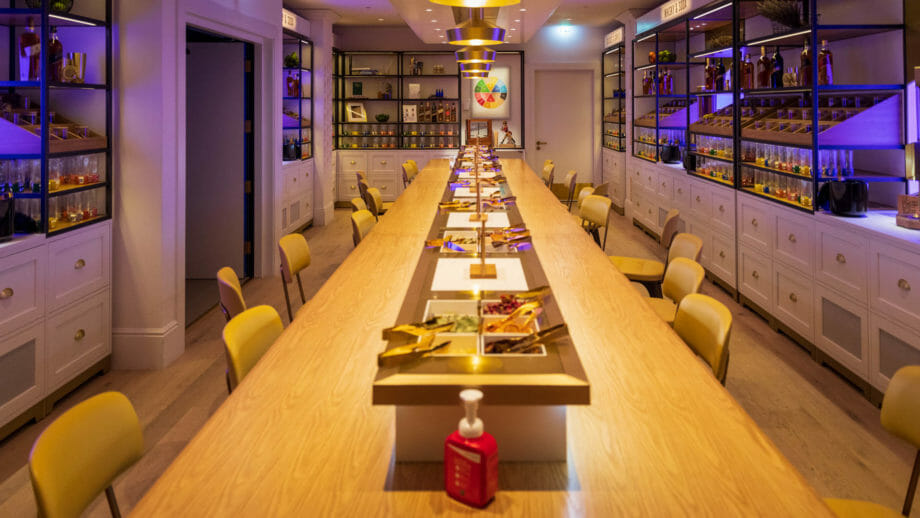 But, keep walking. Next room – LED show again. This time it's about the making of whisky, and our guide is standing in the middle of the room. On the ceiling above her a planted map of Scotland, around her four desks with tastes from each whisky region, on the wall fluorescent tubes that light up during the explanation. Well done, beautifully explained, supported by soap bubble smell samples.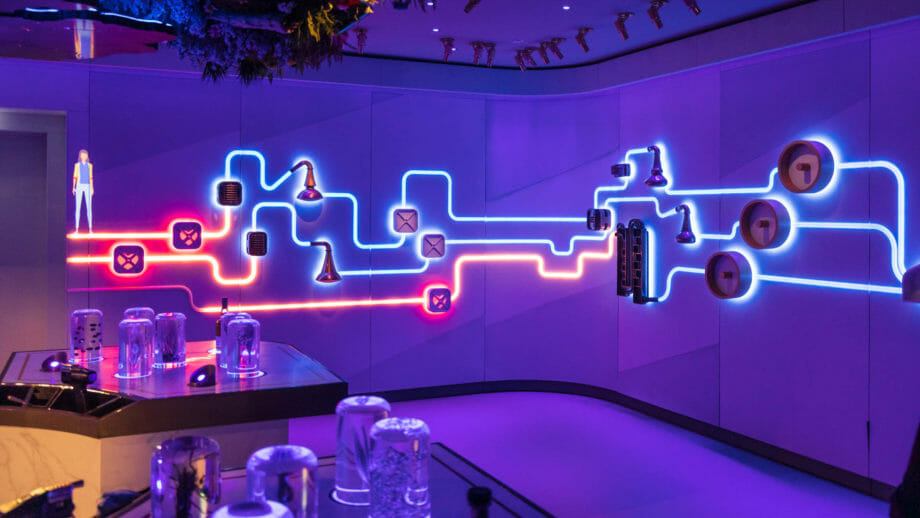 It has to be said here too: highest technical level, clear narrative, great ideas for presentation.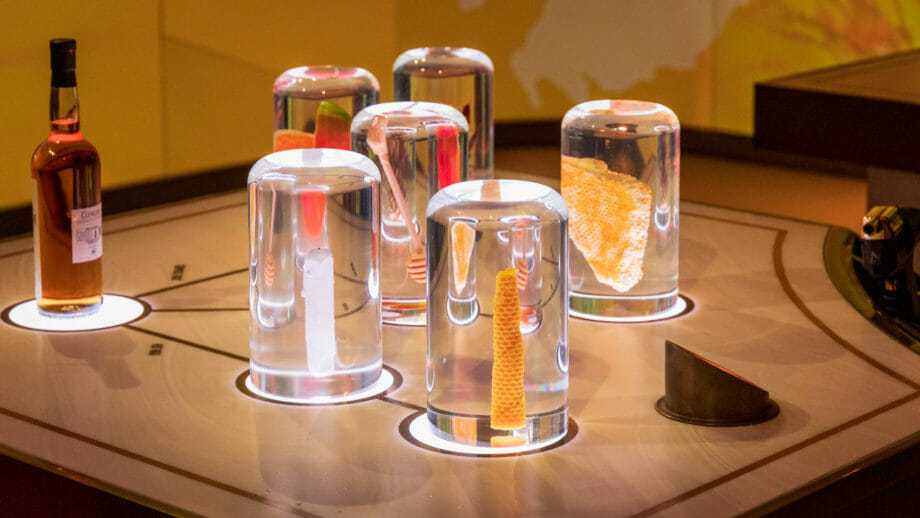 Keep walking. Next room. The Johnny Walker bottlings explained. Again with great light show. Then on to the last room: a bar serving two drinks again. Either two cocktails or Johnny Walker neat.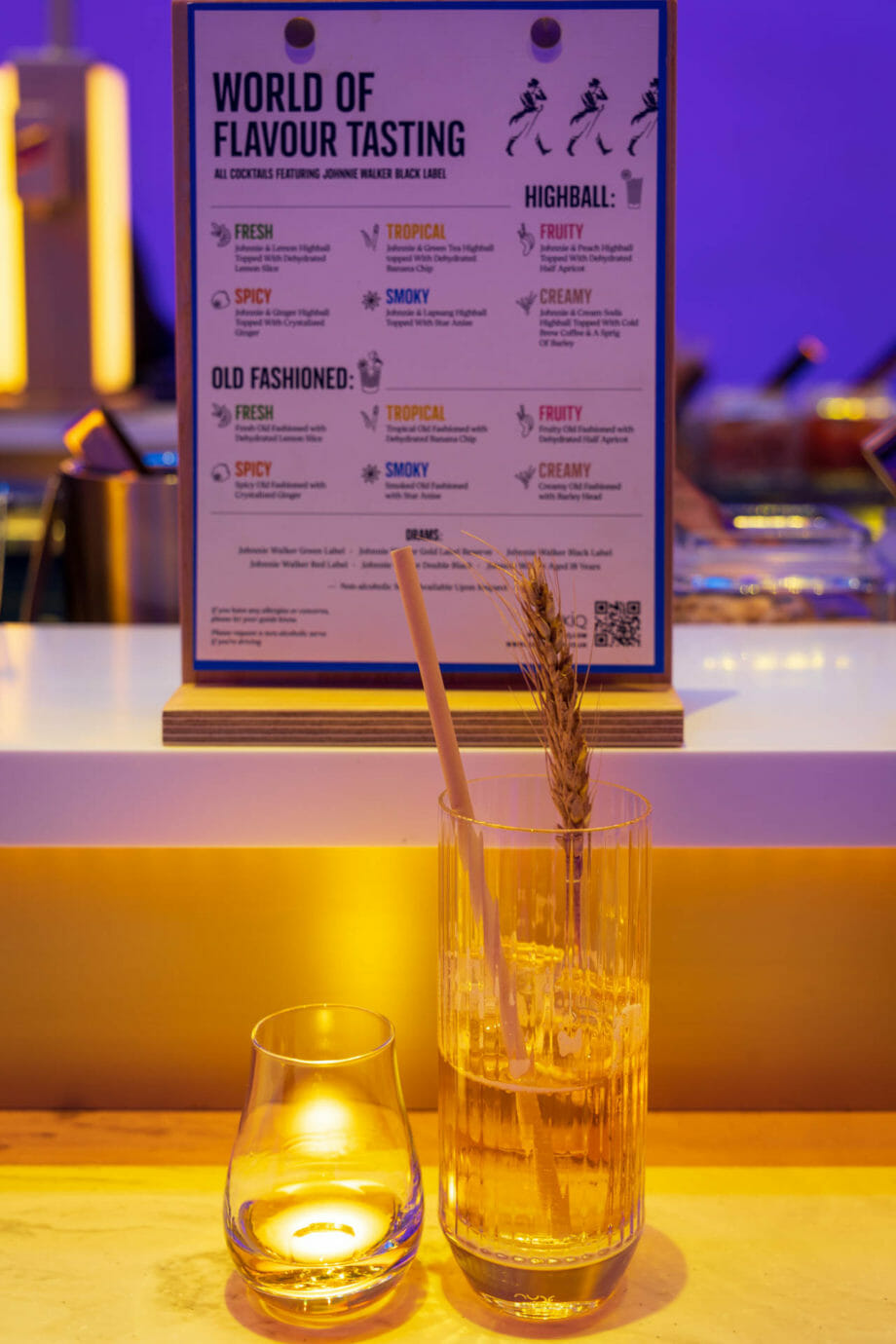 Keep walking. Out this time, the tour is over. Visitors can still stock up on whiskey and more at the store.
By the way, that was just the one tour, of course. There are many other attractions at the Johnny Walker Princes Street. Various tastings, historical tours into the archives, a rooftop bar, and on and on.
Conclusion:

Johnny Walker Princes Street – is it worth it?

The tour at the Johnny Walker Princes Street is a flamboyant advertising presentation on the most modern technical level. Admission is not cheap, but well worth the money through three cocktails. What perhaps falls a little short behind all the sophisticated technology is something that touches the heart. Single-malt fans will certainly have less fun here than cocktail lovers.
Knowledge:

The Building of Johnny Walker Princes Street

It's a stroke of luck that drinks giant Diageo has sought a new home for its Johnny Walker representation. That's because the chunky building at the end of Princes Street has a distinctive architectural style from between the two world wars. In 1935, architect John Ross McKay built the facade in a style still reminiscent of Art Deco. The large B at the top refers to the former owner, the department store chain "H. Binns, Son & Co". It was later bought out by "House of Fraser."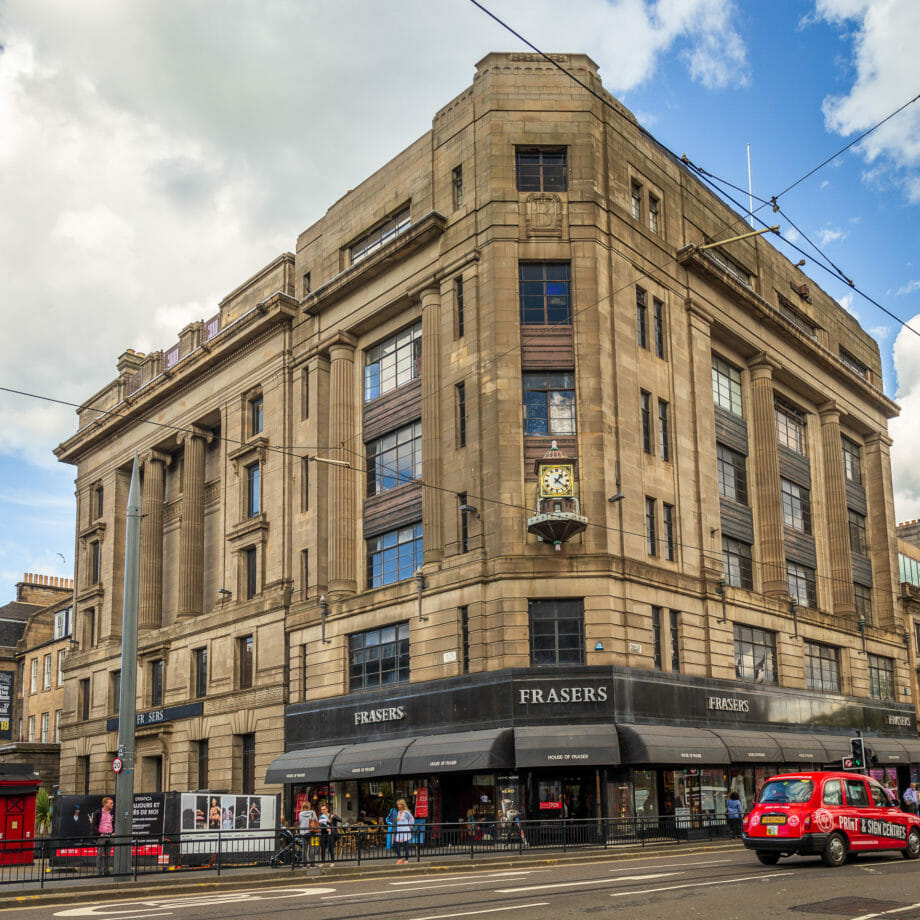 When department store House of Fraser ran into financial trouble in June 2018, it divested itself of 31 of 54 stores – and the building on the corner of Hope Street and Princes Street was one of them.
The fate of the department store was unclear for a long time, until Diageo, of all people, took an interest in it and wanted to establish the Johnny Walker Experience in it. With success.
Almost more important than the building itself: The "Binns' Clock" on the corner of the house was, and still is, a popular meeting place for Edinburgh residents.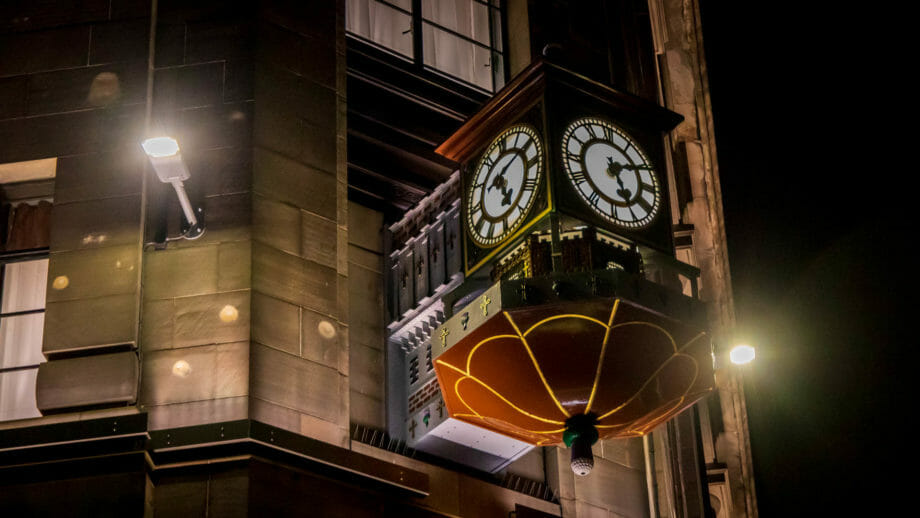 In addition to a chime, the clock also has also some puppets running around ist – each seven minutes past the hour and half hour.
Directions:
Princes Street is right in the middle of Edinburgh. The Johnny Walker Princes Street can be found at its west end, opposite St John's Cathedral. It is not advisable to go there by car. The tram and also almost all busses stop there. It is within easy walking distance from the Royal Mail.