A beautiful bay at the end of the Isle of Skye invites you for a walk. Already on the way from the parking lot to the sea one meets mossy trees, green ferns and white peacocks (sic!).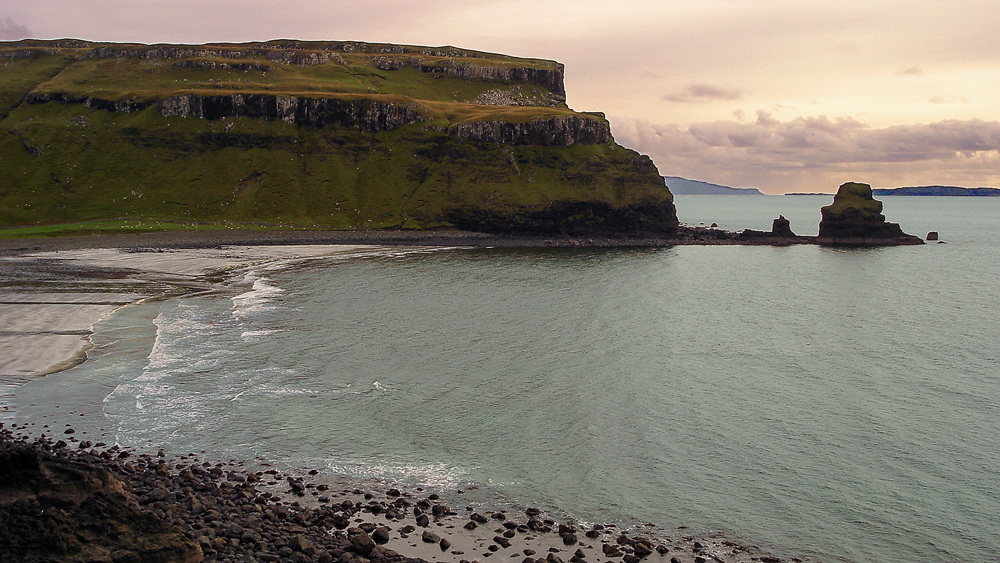 To the left and right, the bay is hemmed in by high cliffs that spill out to the center in long boulder fields. Directly at the sea a dark sandy beach has spread out and gives Talisker Bay its very own flair.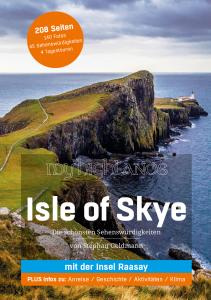 Mein Reiseführer Isle of Skye
Auf 208 Seiten beschreibe ich 45 Sehenswürdigkeiten auf der Isle of Skye und Raasay. Zusätzlich Infos zur Anreise, zum Klima und zur Geschichte der Isle of Skye. Mit vier Vorschlägen für Tagestouren.
Mehr Info hier.
Limpets have attached themselves to the large rocks at the water's edge, and if you dig around a bit in the water puddles, you'll find small crabs.
Tip:

Hike to the waterfall

On the north side (that is, when you look at the sea on the right), a waterfall plunges spectacularly into the depths. Since it's not much water, a gust of wind on the long walk can often spray what little wet there is.

To get there, however, you have to climb over boulders away from the sandy beach. Sturdy shoes and highest attention are a prerequisite. Moreover, one should pay attention to the water level. When the tide comes in, the way back can be difficult.
Personal note:

Awe of the tide

We stayed there for a few wonderful hours, collecting shells and making the difficult walk to the waterfall. However, I was really a bit scared because of the returning tide.
Directions:
As you head towards Carbost, where the Talisker distillery is located, there is a turn off just before, take it up on the left. Drive along above the village, there will be a sign pointing left towards Talisker. Always follow the road, keep to the right at the next junction (again, "Talisker" is signposted). The road ends at private properties, which are delimited with gates. There is room to park and green signs show the way to the bay.