It is one of the fiercest whiskies of Scotland. Talisker. An interesting tour shows how the "water of life" is created in the village of Carbost on Skye.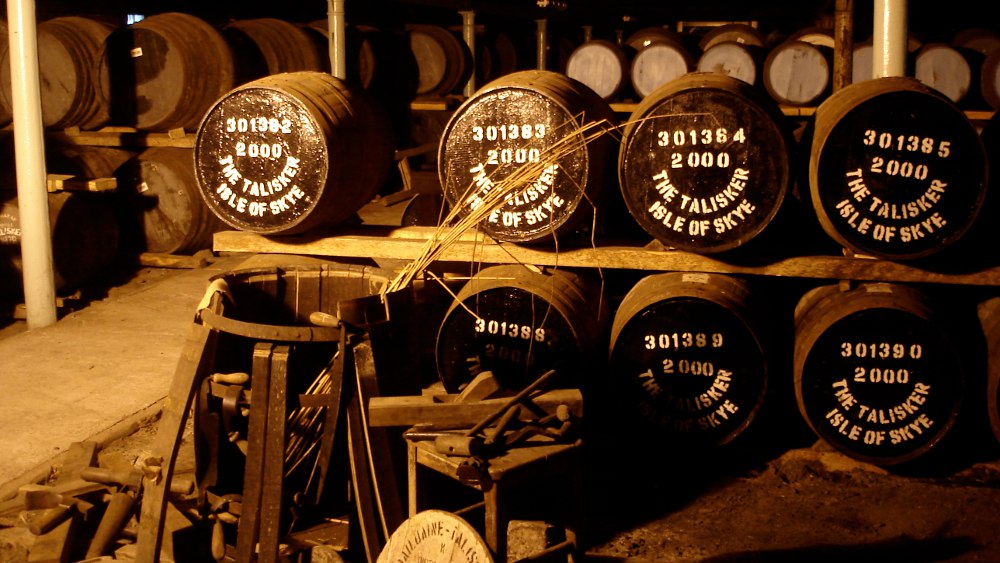 Situated on Loch Harport on a small pier, stands the whitewashed distillery. Guests gather in the visitor center to wait for a tour of the distillery's production.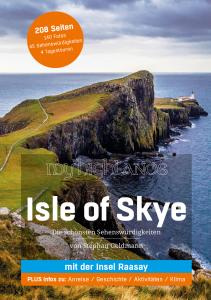 Mein Reiseführer Isle of Skye
Auf 208 Seiten beschreibe ich 45 Sehenswürdigkeiten auf der Isle of Skye und Raasay. Zusätzlich Infos zur Anreise, zum Klima und zur Geschichte der Isle of Skye. Mit vier Vorschlägen für Tagestouren.
Mehr Info hier.
The tour passes the beautiful old grain mill and the large washes and stills. The guides tell general about whisky distilling and special about Talisker Whisky.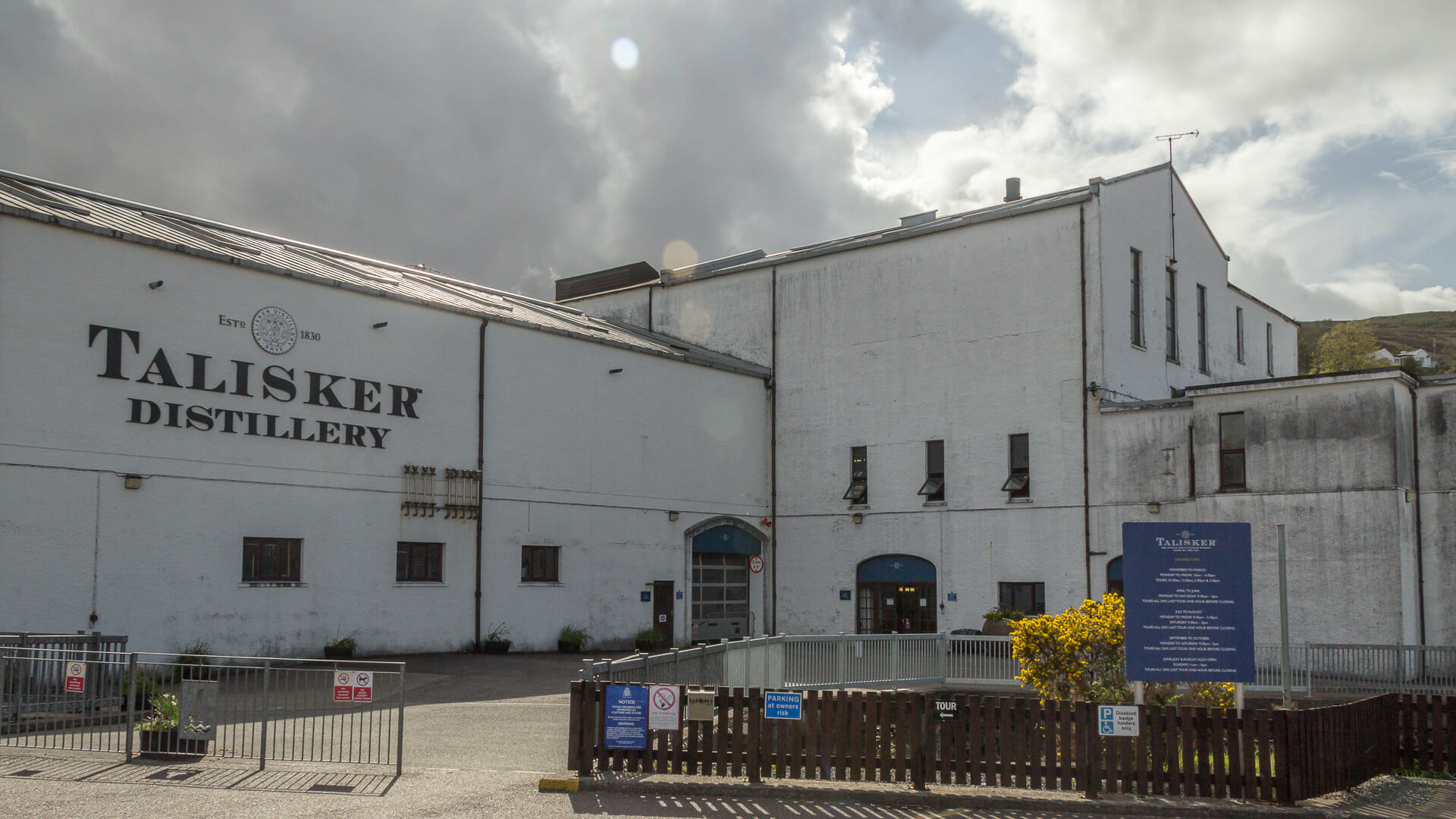 The tour ends after the warehouse with beautiful casks (see picture above) and with a dram of whisky.
Knowledge:

Disastrous fire

Although the distillery is, yes, in Carbost, it takes its name from "Talisker House", a manor house on Talisker Bay, which is a short distance away. The bay was part of an estate owned by descendants of the Clan MacAskill.

Talisker Distillery was founded in 1831. However, the building is not that old as it burned down in 1960 and then was rebuilt to its original state by 1962.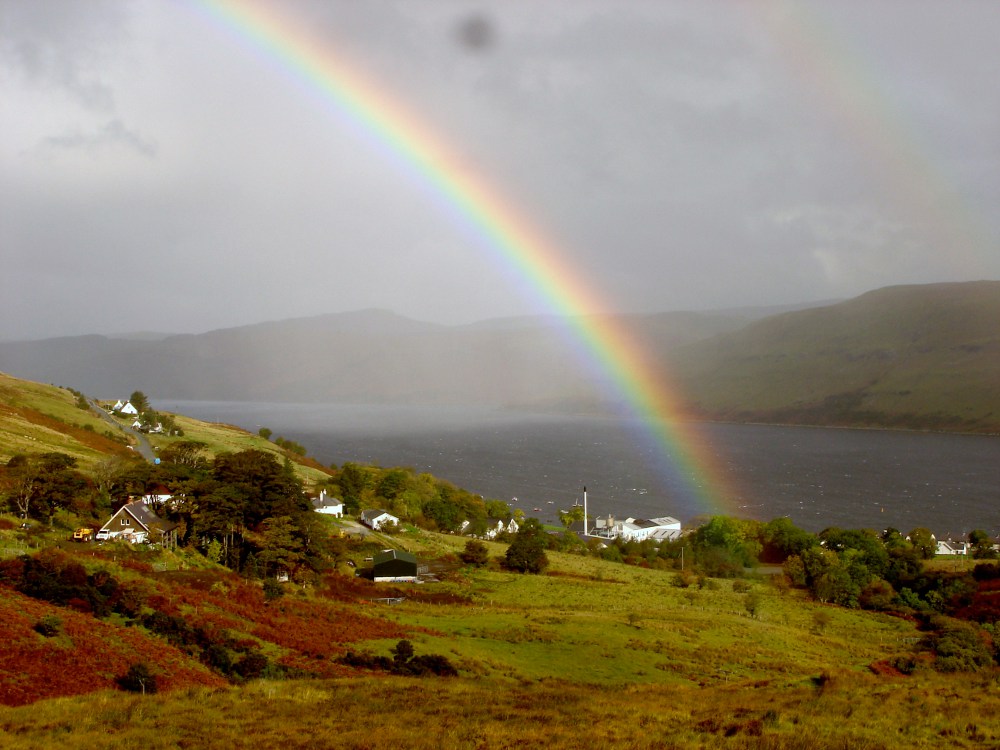 Each year, Talisker Distillery produces approximately two million liters of whisky. If you see the storage room at the end of the tour, you'll rightly wonder where all those casks are supposed to fit. They do not there, but in extra halls, which you do not see, because they are not intended for tourists.
Talisker belongs to Diageo, an international beverage company that owns many other whisky brands. For example Coal Ila, Knockando, Oban and Johnny Walker.
Personal note:

Educational tour with fun

My wife and I really enjoyed the tour. The reason for this was Alistair. He led through the distillery with such verve and fun that it was educational and fun at the same time.

UPDATE: Our first visit was in 2008, five years later we were back. This time we unfortunately got stuck with a somewhat lame tour guide, so it depends somewhat on the guide and how much fun he conveys.

The company Diageo, which owns Talisker by now, has given the distillery its own motto: "Made by the Sea", which fits quite well with the heritage of the Vikings and the Lords of the Isles. You can find out more about their history at the Museum of the Isles at Armadale Castle.

You can round off your visit with a visit to Talisker Bay, which is a good fifteen-minute drive away.
Directions:
From the A87 (coming from Portree or Kyleakin it doesn't matter) to Sligachan and there turn onto the A863 towards Dunvegan. After a few kilometres you will see a sign for the Talisker Distillery and turn left towards Carbost. Cross the Drynoch river and enter Carbost – Attention! Do not drive to Talisker or Talisker Bay, but stay down at the loch. Is also well signposted.