A famous bridge, two roads and plenty of good places to stay. Sligachan offers scenery, flair, hospitality and much more …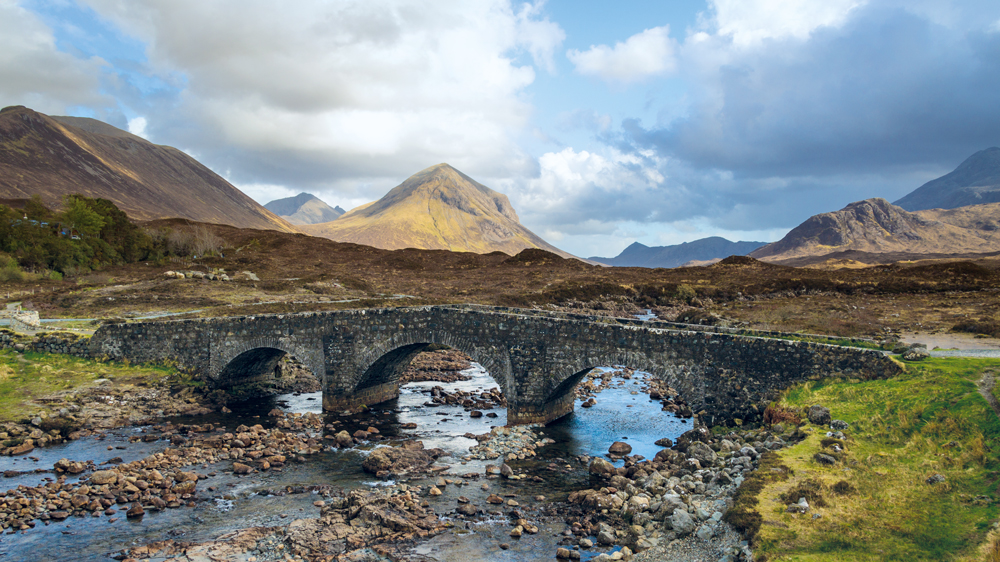 Of course, the Sligachan Bridge on the main road to Portree is the first to catch the eye. The stone bridge with three arches over the Sligachan River makes a quite excellent photo subject with the rugged mountains in the background. It's worth a stop for that alone.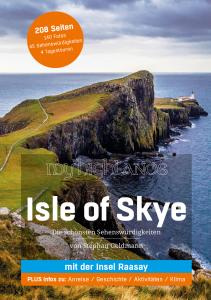 Mein Reiseführer Isle of Skye
Auf 208 Seiten beschreibe ich 45 Sehenswürdigkeiten auf der Isle of Skye und Raasay. Zusätzlich Infos zur Anreise, zum Klima und zur Geschichte der Isle of Skye. Mit vier Vorschlägen für Tagestouren.
Mehr Info hier.
The bridge is said to have been built around 1820. It is not used, because the new main road of Skye leads parallel over a new overpass. There the road to Dunvegan or Talisker Bay branches off.
However, the town has more to offer: For walkers, Sligachan is THE starting point into the Black Cuillins, the black mountains of Skye. Even inexperienced hikers can walk into Glen Sligachan and enjoy the view of the wonderful peaks.
There is a whole range of options for overnight accommodation: There is a well-equipped campsite right by the Sligachan sea loch. However, you have to fight with rain and mosquitoes most of the time. Comfortable is the hotel: There are atmospherically furnished rooms with bed & breakfast. However, the night in the summer already costs 65 pounds per person. Large groups can also rent one of the nearby cottages.
On the ground floor of the hotel is the Cairidh Restaurant. We ate there once – the meal was good but not outstanding. Next door in Seamus Bar serves down-to-earth food like chips and co.
Specials:

Mountain Runners and Ghost Drivers

Once when I was in Sligachan in mid-July, I marveled at many scantily clad runners racing down the nearby mountain and running through a finish arch in front of the hotel.

This was the annual "Glamaig Hill Race". Runners start in Sligachan and race up and down the hill. In the process, they cover 7 kilometers and 775 meters of elevation gain. The record is just under 45 minutes.

The race has been held annually since 1988. It commemorates Gurkha Harkbir, a Nepalese in the service of the British Army. Harkbir was visiting Sligachan in 1899 and just ran up and down the Glamaig one day. It took him an hour and 15 minutes. When landowner MacLeod of MacLeod heard about it, he didn't want to believe it. Without further ado, the Gurkha ran up again to prove it, and this time it only took him 55 minutes.

And of course – we are in Scotland after all – Sligachan also has a ghost story to offer. On the road that leaves there towards Dunvegan, lights from an oncoming car are said to be frequently seen at night. Just before it passes one, however, it disappears …
Tip:

A drink in the bar

Even though it's not exactly cheap there: I find MacKenzie's bar with its deep leather armchairs by the fireplace very cozy. By the way, you can drink beers from the in-house mini-brewery "Cuillin Brewery" there. MacKenzie's bar is located on the ground floor of the hotel, as is the restaurant.
Knowledge:

Rich in tradition

Sligachan is pronounced roughly "sligachen" and means something like "place of small shells". There must have been a lot of them in the nearby loch.

The first inn on this site is thought to have been built as early as the 1700s. The new hotel was built in 1830 and has served as a base for hikers ever since. There is even a small climbing museum there, displaying documents and photographs beginning in 1913.
Personal Notes:

"I got a river in my shoes"

Sligachan was the destination of our walk from Glenbrittle via Loch Coruisk, which on the second day was mainly characterised by unforgiving Scottish weather. In Glen Sligachan, an otherwise passable little river had swollen into a raging torrent. By chance we had met a hiker who had stopped us from crossing it at a too deep spot with the words "If you slip out, you'll be washed down and dead". "I got a river in my shoes" was a second saying of his that I will never forget.

That same wanderer bought me my first Laphraoig in Seamus Bar – one of my favourite whiskies.
Directions:
Sligachan is just off the A87 between Portree and Kyleakin. From Dunvegan or Talisker, the A863 road leads directly there.