Skye lies off the west coast of the Scottish Highlands. However, just half a kilometre separates the island from the mainland at its narrowest point. The best way to get to Skye and how much it costs is here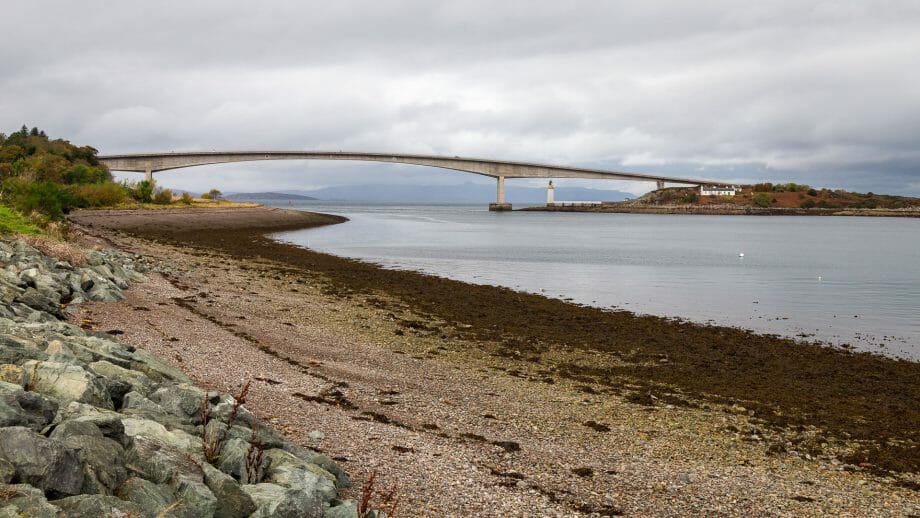 Info about Skye:
» General
» Getting there
» Best time to travel
» Tours
Getting to Scotland is usually by plane to Edinburgh, Glasgow or Aberdeen. Semi-cheap airlines include Easyjet or Lufthansa. One should compare depending on the destination airport in each case several providers, because, for example, in 2012 the flight to Aberdeen with Lufthansa also cost no more than that of Easyjet to Edinburgh. So it's worth investing a little time in comparing.
Tip: Easy Jet also flies to Inverness via a detour via London – a real alternative!
There are several options for onward travel from the airports to destinations in the Highlands.
Drive to Portree on Skye by car
The most flexible way to get around the Highlands is still by rental car. Don't be afraid of driving on the left! Driving in Scotland is not difficult, here's what to look out for.
The table shows distances and approximate journey times by car to the main town of Portree on Skye:
| | | |
| --- | --- | --- |
| From | Distance | Time by car approx. |
| Edinburgh | 380 kilometers | 5:00 hours |
| Aberdeen | 350 kilometers | 5:00 hours |
| Glasgow | 340 kilometres | 4:45 hours |
| Inverness | 180 kilometres | 2:30 hours |
Although Skye is an island, it no longer takes a ferry to reach it. The Skye Bridge cuts an arc across the Kyle of Lochalsh. So it's easy to drive across by car – without paying tolls.
Nevertheless, there are still several ferry routes. For example, the ferry from Mallaig to Armadale. In the summer it leaves Mallaig between eight and 5pm about every hour. The journey takes half an hour, and a single journey costs £10 single and £20 return for a normal car. Adult passengers cost another £3 or so one way, or £6 return.
You can find out more about the Mallaig – Armadale ferry service on this page directly from Caledonian MacBrayne.
Alternatively and just scenically very nice is the small ferry from Glenelg to Kylerhea. The service has been running since 1934 and the ship is also over 40 years old. The owner and a few enthusiasts invest a lot of money year after year to keep the service maintained at a safe level.
The Skyeferry runs between Easter and October from ten to 6pm about every 20 minutes. Cost: £15 for a car with up to four passengers one way, £25 with return ticket. More info can be found on the Skyeferry's website.
With the bus
As with everywhere else in Scotland, you can get to Skye on the Citylink buses.
Here are some examples of the bus service to Portree:
| | | | | |
| --- | --- | --- | --- | --- |
| From | Convert | Duration approx. | Price one way approx. | Price return approx. |
| Edinburgh | 1 x in Glasgow o. Inverness | 8 to 9 hours | 60 pounds | 110 pounds |
| Glasgow | without | 7 hours | 50 pounds | 80 pounds |
| Inverness | without | 3:15 hours | 30 pounds | 50 pounds |
(prices approximate from May 2021)
With the train
There is no direct connection to Portree, as there are no railway tracks laid on Skye. You can drive to the Kyle of Lochalsh and get on a bus from there. A return ticket costs in the best case about 100 pounds (about 85-140 pounds train from Glasgow, 15 pounds bus from Klye of Lochalsh, each way there and back). But then you still have to organise the onward journey.
An alternative is certainly the connection from Glasgow via Fort William to Mallaig. It is partly via the route of the Jakobite Steam Train and offers some of the most beautiful scenery near Skye. From Mallaig you can then continue again by ferry and bus. There and back from Glasgow, the journey costs between £32 and £65 and takes around 5 hours.
For info on this rail link, check out Scotrail.